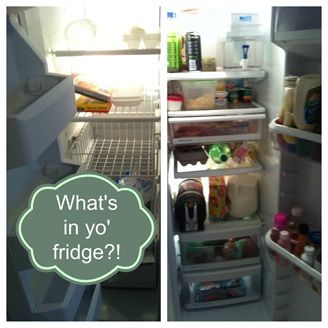 Linking up here with
Holly
, to show everyone what's in my fridge.
I have two refrigerators. One is ours, and one came with the rental.
I know you all are so jealous of that vintage floor! And I couldn't get a straight angle of the garage fridge because there's crap piled everywhere - and creepy animals staring at me.
My nice filtering water and ice making machine fridge was too big to fit in this 1967 kitchen - so it's in our garage, and this fugly standard white refrigerator is what this family of 5 has to get by with. Surprisingly, we do just fine, and I think we waste less food with a smaller refrigerator.
The one in the garage isn't really convenient, so it holds mostly beverages and frozen fruit or turkeys.
And that's what's in my fridge!
They both need to be scrubbed down - If you enlarge the image I'm sorry for whatever nastiness you can see in the photos.
Some other random photos from this week:
Pretty much what I've been eating all week for dinner. Huge salads to fill me up! [with a side of chicken]
My face after the dentist, completely numb on the right side but I could sort of smile. I was numb until 7 that night - but it was all good because my dentist is the best and I never feel pain! YAY.